Welcome to Wilma's Health Care, offering quality & affordable nutritional supplements, & alternative health services in our community for over 25 years.
Contact us by email. We're here to help & we will respond to any questions you may have. Our Motto is "Education for your Better Health."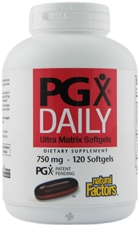 PGX Daily
120 Softgels $39.95
It is a proven fact, diets rarely work! PGX helps address the core reasons why we gain weight.
Read more here.
Solaray
IbuActin
60 Vegetarian Capsules $19.95
All-Day, All-Body Comfort All-Natural.
With Alpha Acids, White Willow, Turmeric Bromelain & More.
Read more here.